Good morning. Due to poor visibility and road conditions along with the ongoing Blizzard Warning covering part of our district, there will be no school in Groton on Friday, 11/12/2021.

Due to weather conditions and forecast, the junior high girls basketball game scheduled for this afternoon has been postponed - date TBD.

Groton Area OST recently kicked off their annual fundraiser selling Driven Coffee! If you are interested in ordering coffee please contact the school or an elementary student. This year all of our money raised will go towards STEM Centers. Thank you!!!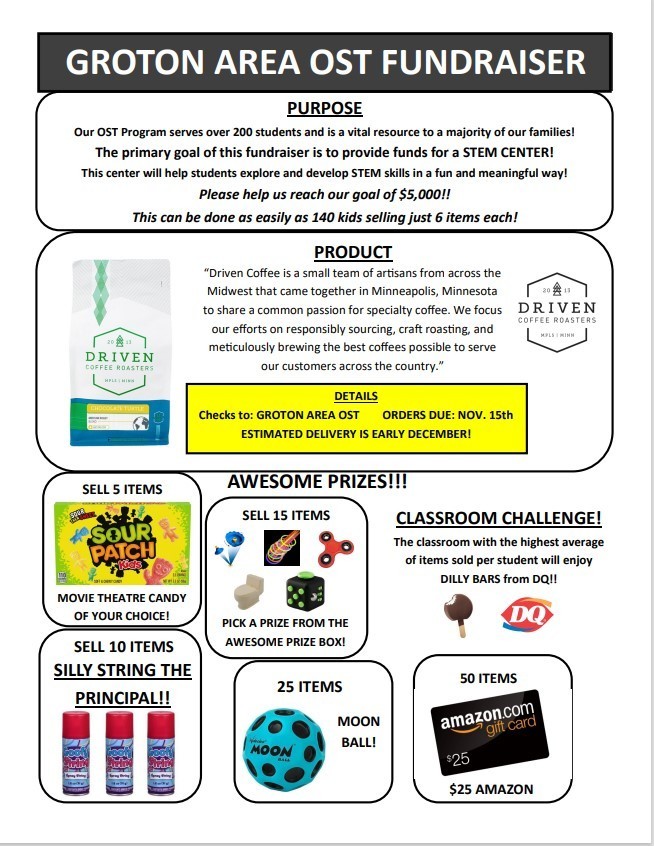 JH Boys Golf scheduled for this afternoon, 9/20/2021, has been cancelled due to weather.

The following changes have been to Monday's (9/20/21) activity schedule: There is no JV football game vs. Sisseton. JH Football vs. Sisseton will be played at Sisseton with a 5:15 PM start.

Today's CC meet in Webster has been postponed to Tuesday, September 14 at 2:00 PM. Today's JH Golf Meet at Olive Grove has been postponed to Monday, September 20 at 3:30 PM.

Groton Area Elementary Student Council has selected the following for Homecoming Dress Up Days the week of September 13th. Monday-Jersey/Sports Day Tuesday-Animal or Superhero Day Wednesday-Twin/Matching Day Thursday-Pajama Day Friday-Spirit Day

Tomorrow's Cross Country Meet in Redfield has been postponed TBD (Possibly Friday, 9/3/21).

There will be no JV Football game in Redfield today - 8/30/2021.

What a great first day at Groton Area Elementary School!!! Thank you to all the staff for their hard work to make this day possible. Thank you to Groton Area Elementary PAC and Gypsy Signs for the first day decorations.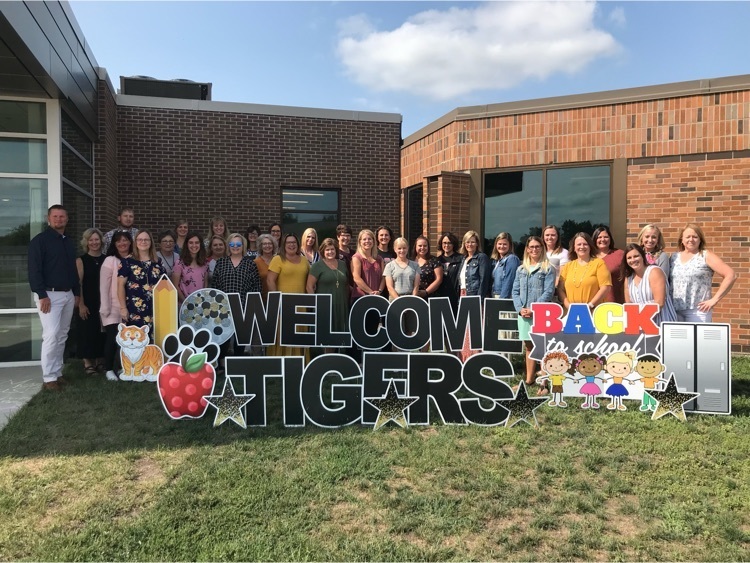 Groton Area High School fall Athletics meeting is scheduled for Tuesday, August 3 at 6PM in the GHS Arena for athletes in grades 9-12 and their parents.

Please check out this summer library news update.

Check out the upcoming elementary library schedule and news.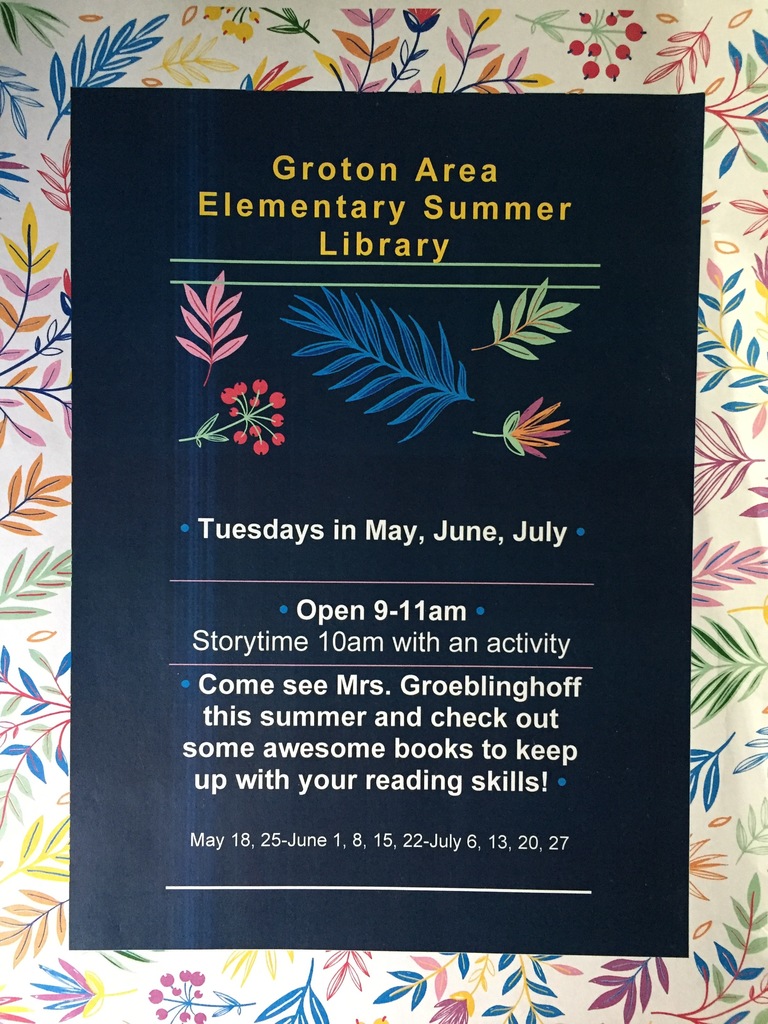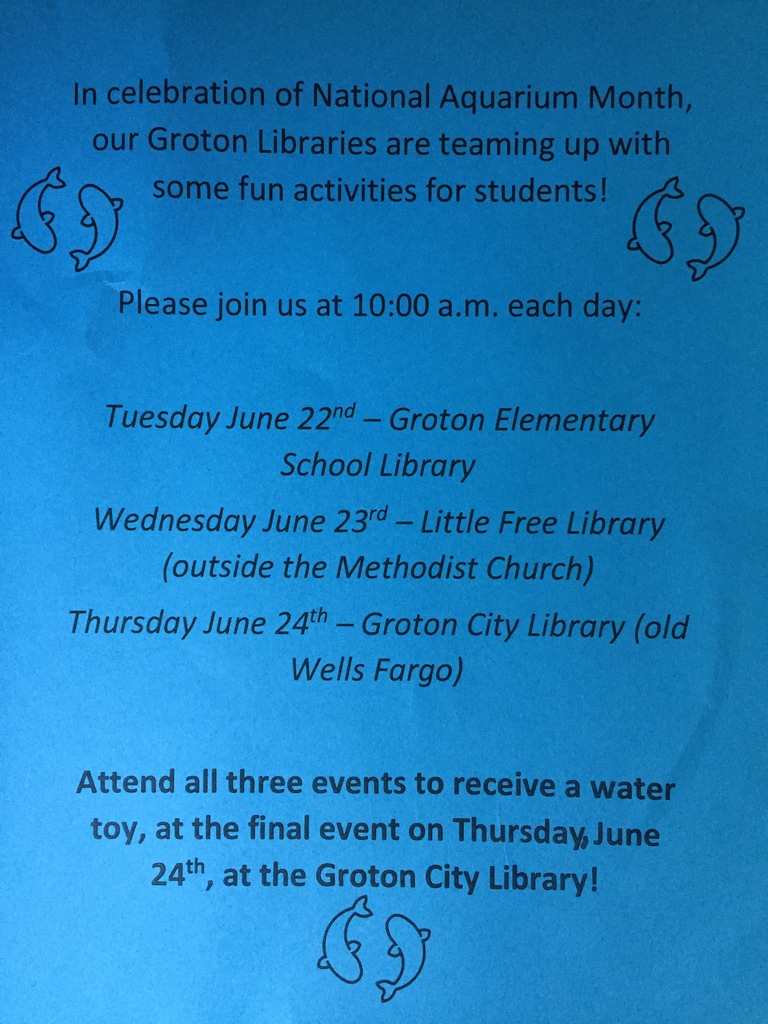 Good Luck at the State A Track Meet, Tigers! Andrew Marzahn (100 M Dash, 200 M Dash) Boys 4x800 M Relay (Cole Simon, Isaac Smith, Jacob Lewandowski, Keegan Tracy, Tate Larson - Alternate) Aspen Johnson (Triple Jump) Kenzie McInerney (High Jump, Long Jump, Triple Jump)

Lost and Found!!! Please stop by the elementary sometimes this week and check out our missing items. They are located in the main entrance. All clothing will be donated if not collected by next week. The doors do not lock until 6:00. Thank you!!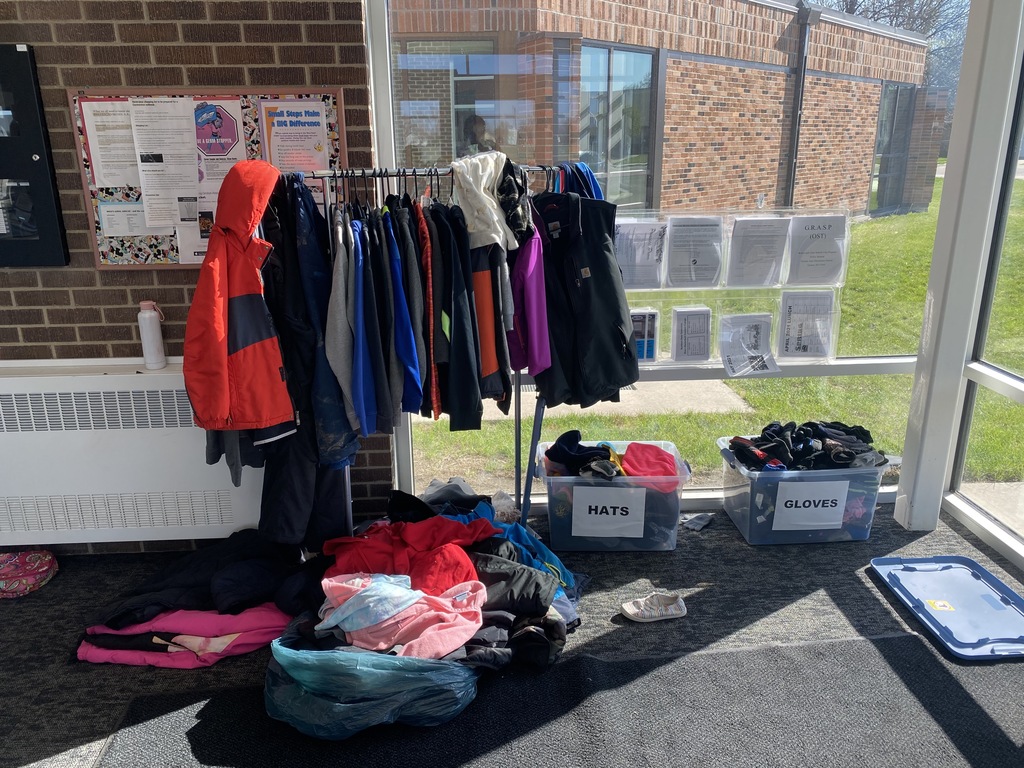 Today's JH track meet scheduled in Britton has been canceled.

Congratulations juniors on the execution of a fabulous 2021 GHS Prom. A huge thank you to junior parents and friends that helped supervise, decorate, and provide decorations. The decorations have all been taken down and materials to be saved have been put on the stage. As less than two weeks of school remain, it is vital that loaned decorations get picked up or returned by juniors as soon as possible. Items that were loaned are located on and near the raised stage on the stage. All the extension cords and surge protectors also need to get returned to their rightful place. During this week, the prom materials to be saved will need to be taken to the prom storeroom.

The HS track meet scheduled for Tuesday, 4/20/21 has been postponed to Thursday, 4/22/21. As a result the JH track meet scheduled for 4/22/21 has been rescheduled to Friday, 5/14/21.

The girls varsity golf meet scheduled for 4/19 in Milbank has been rescheduled for Thursday 5/13.

Both the JH track meet schedule for Milbank on 4/15 and the Varsity track meet scheduled for Milbank 4/16 have been canceled.