Please check out this summer library news update.

Check out the upcoming elementary library schedule and news.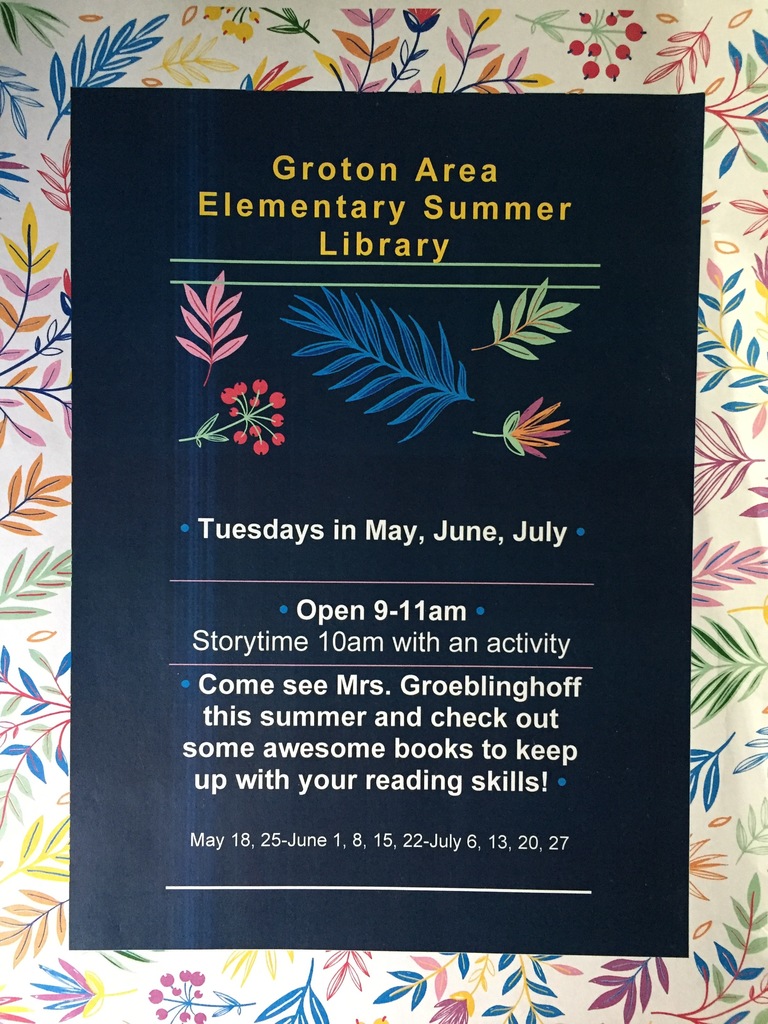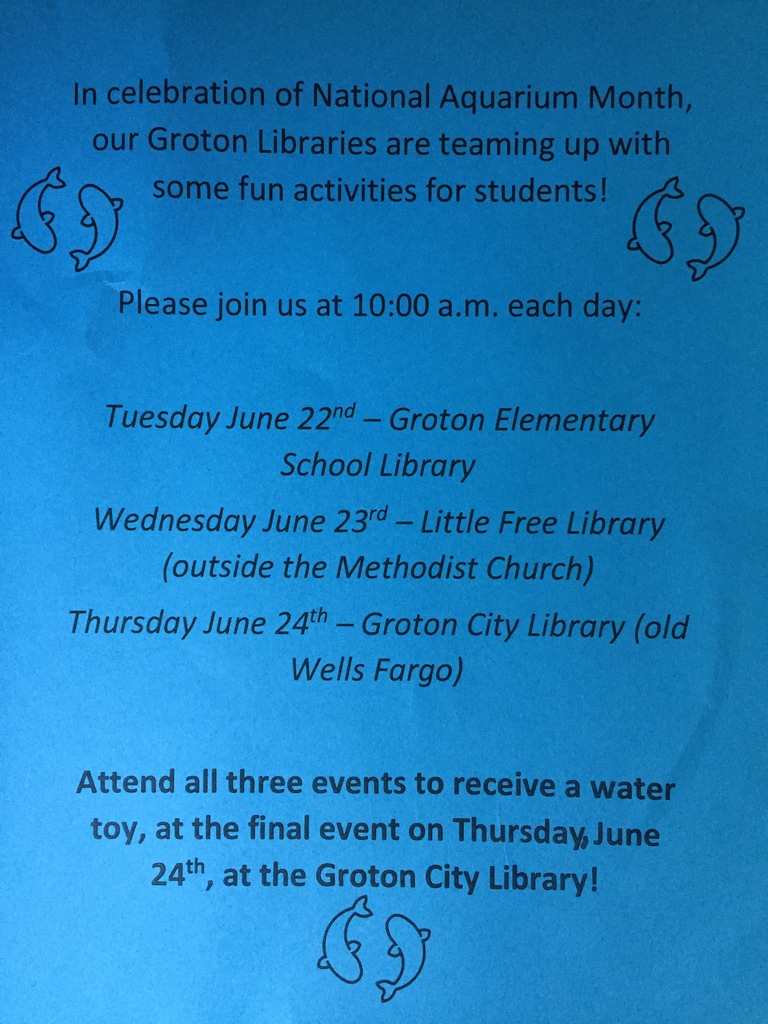 Good Luck at the State A Track Meet, Tigers! Andrew Marzahn (100 M Dash, 200 M Dash) Boys 4x800 M Relay (Cole Simon, Isaac Smith, Jacob Lewandowski, Keegan Tracy, Tate Larson - Alternate) Aspen Johnson (Triple Jump) Kenzie McInerney (High Jump, Long Jump, Triple Jump)

Lost and Found!!! Please stop by the elementary sometimes this week and check out our missing items. They are located in the main entrance. All clothing will be donated if not collected by next week. The doors do not lock until 6:00. Thank you!!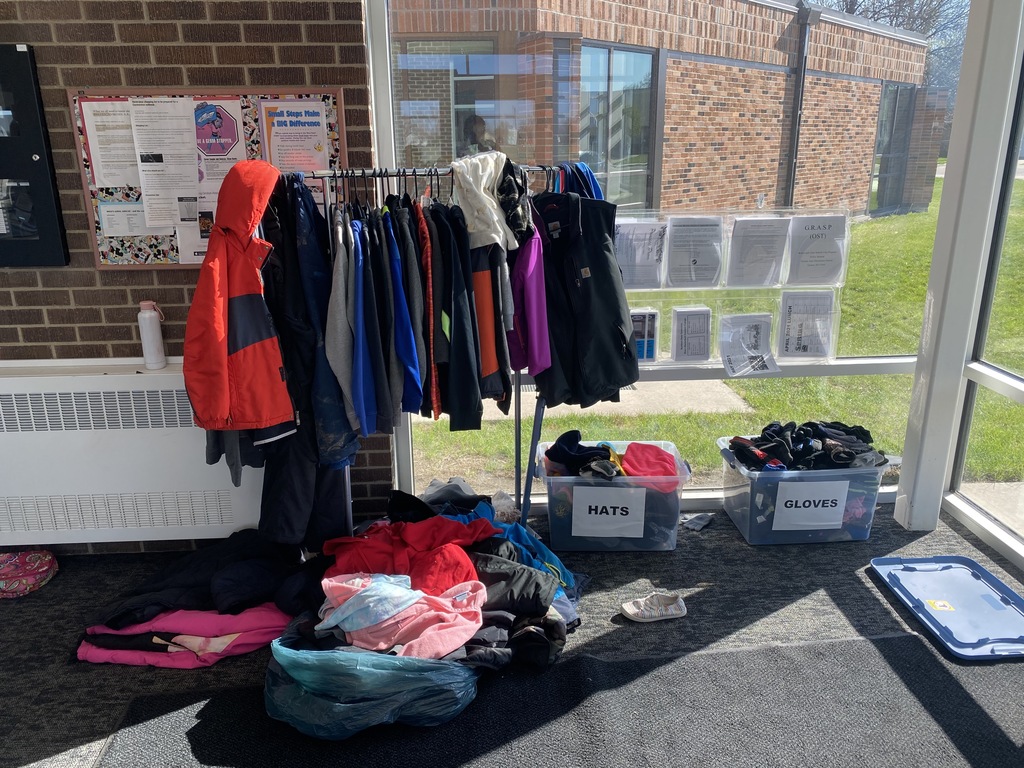 Today's JH track meet scheduled in Britton has been canceled.

Congratulations juniors on the execution of a fabulous 2021 GHS Prom. A huge thank you to junior parents and friends that helped supervise, decorate, and provide decorations. The decorations have all been taken down and materials to be saved have been put on the stage. As less than two weeks of school remain, it is vital that loaned decorations get picked up or returned by juniors as soon as possible. Items that were loaned are located on and near the raised stage on the stage. All the extension cords and surge protectors also need to get returned to their rightful place. During this week, the prom materials to be saved will need to be taken to the prom storeroom.

The HS track meet scheduled for Tuesday, 4/20/21 has been postponed to Thursday, 4/22/21. As a result the JH track meet scheduled for 4/22/21 has been rescheduled to Friday, 5/14/21.

The girls varsity golf meet scheduled for 4/19 in Milbank has been rescheduled for Thursday 5/13.

Both the JH track meet schedule for Milbank on 4/15 and the Varsity track meet scheduled for Milbank 4/16 have been canceled.


Due to the weather forecast we are canceling the Rob Luecke Track Invitational scheduled for Tuesday April 13th.

Today is #Paraprofessional Appreciation Day! We are thankful for the hard work and support provided by our crew of paraprofessionals and proud of the role they play in developing our students.

Track and Field Day has been set for Thursday, May 6. We will start events at 12:30. We will not be having a picnic this year at the elementary school.

Due to road conditions, the Groton Area School District will be opening two hours late on Thursday, March 11, 2021. OST will be open at 7:00 AM.

The Groton Area School District will be dismissing at 2:15 PM due to the deteriorating weather and road conditions. OST will be closed.

Read Across America Week The Groton Area Elementary Student Council is sponsoring dress-up days to celebrate Read Across America for the week of March 1-4. Monday, March 1: Pajama Day Tuesday, March 2: Class Colors (PK/JK- Gray; K- Green; 1st- Purple; 2nd- Yellow; 3rd- Red; 4th- Blue; 5th- Black; Staff- Orange) Wednesday, March 3: Wacky/wild outfit day Thursday, March 4: Groton Tiger clothes Go Tigers!

Congratulations to Dragr Monson - State B Wrestling Champion. Way to go!

We have a small number of ticket vouchers left for tonight's Region 1A Girls Basketball game vs. Milbank available on a first come, first served basis. Call 605-397-8381 if you're interested.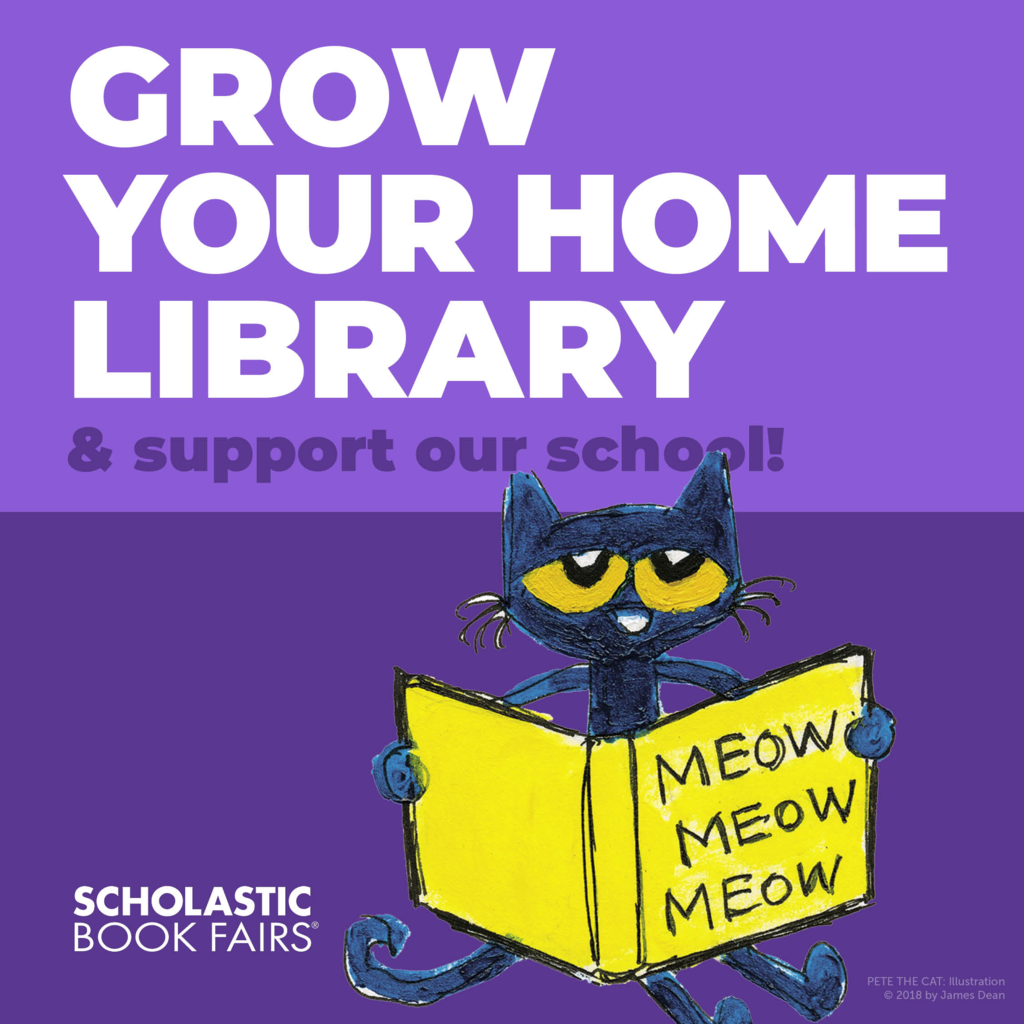 Kindergarten Roundup is just around the corner!!!