During the week of April 11-15, the South Dakota Department of Education celebrates the Week of Work. Groton Area High School incorporates working skills through hands-on career experiences through the high school internship program.
"Taking internship class is a great way to meet people in the profession that you are seeking. It allows you to step outside your comfort zone by forcing yourself to be around different people and learn new things. It is a great class that offers you the experience to help narrow down what career fits best for you," stated senior Emilie Thurston.
During the 2021-2022 school year, Groton Area High School has partnered with 15 different businesses and organizations to make these experiences happen for students. These businesses include Beauty Brew, RutGear 605, Lori's Pharmacy, St. John's Preschool, City of Groton, Tewksbury Farms, Professional Management Services, Groton Area High School, Full Circle Ag, Weber Landscaping, Groton Area Elementary School, Herr Farms, Next Level Nutrition, Aligned Ag, and Groton Police Department. Thank you to these organizations and individuals for mentoring our seniors this year and making these experiences happen!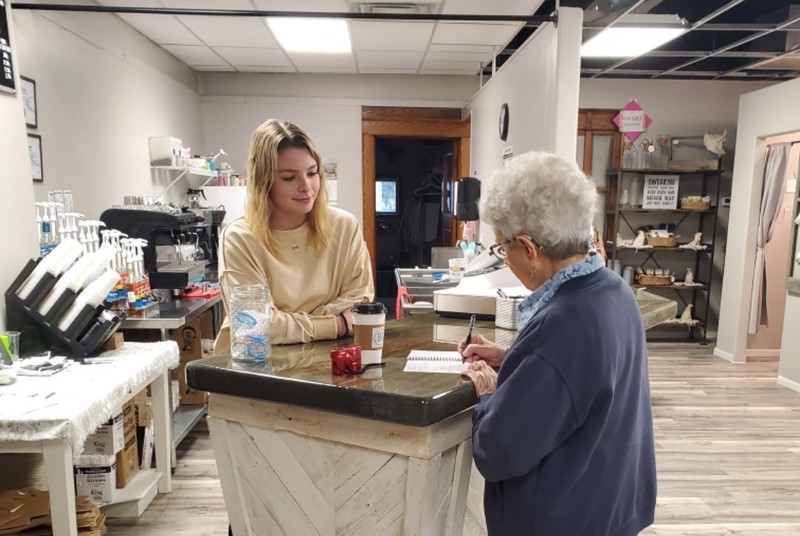 Photo: Madeline Fliehs assists customer, Dorene Nelson, at Beauty Brew Boutique.
If your business or organization would like to mentor an intern for the upcoming 2022-2023 school year, please contact the Groton Area High School at (605) 397-8381 for more information!