Homecoming Week is scheduled for September 13-17, 2021 at Groton Area High School
The theme selected by the student council for 2021 is "Musical Genres."
The 2021 Homecoming Parade Marshal is Chuck Padfield.
Royalty Candidates for 2021 are:
Jordan Bjerke, Kaden Kurtz, Pierce Kettering, Seth Johnson, Jackson Cogley, Madisen Bjerke, Madeline Fliehs, Megan Fliehs, Emilie Thurston, Trista Keith
Dress up days at the Middle/High School for the week are (*School dress code rules still apply):
Monday: Awkward Phase
Tuesday: Twin Tuesday
Wednesday: Costume Day
Thursday: Class Colors
Friday: Spirit Day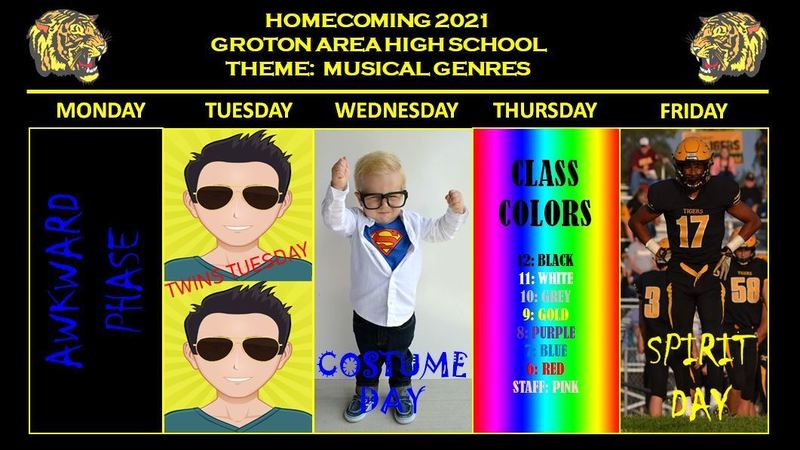 Activities for the week will include:
Monday, September 13

Coronation (GHS Gymnasium) 7:30 PM
Junior High Boys Golf (H - Olive Grove Golf Course) 3:30 PM
Cross Country @ Webster 2:00 PM
Tuesday, September 14
Boys Golf @ Redfield 10:00 AM
Thursday, September 16
Boys Golf @ Dakota Magic Golf Course 11:00 AM
Volleyball vs. Mobridge-Pollock (H)

7th Grade/C 4:00 PM
8th Grade/JV 5:00 PM
Varsity Follows

Cross Country @ Aberdeen Lee Park 4:00 PM
Friday, September 17
Homecoming Parade 1:00 PM
FFA Pork Loin Supper @ Football Field 5:30 PM
Football vs. Mobridge-Pollock 7:00 PM
Saturday, September 18
Girls Soccer @ Garretson 1:00 PM
Boys Soccer @ Freeman Academy 5:00 PM
As always, a full listing of school activities can be found on the web at www.grotonarea.com.