Since a Rapid City robotics tournament was canceled, GT Robotics chartered new territory, literally, and traveled to a Ramsey, Minnesota tournament instead on Dec. 14. Coach Jim Lane said, "My robotists would have had nearly two months in the middle of the season with no competition, so I looked into other competitive options with less travel. Those ideas didn't pan out, so off we went to the PACT Charter School's VRC Tournament, the Ramsey Rumble." GT robotists were obviously ready for the new challenge. G-Force and G.A.T. Wrenches started the day by winning their first two matches.
At the end of the qualifying matches, not one of the 32 participating teams was undefeated. "There were a lot of good teams at the tournament," Lane said. Groton had three teams in the top 11. G.A.T. Wrenches (Corbin Reich, Tannor McGannon) was Groton's highest ranked team with a record of six wins and two losses. Tannor is normally a member of G-Force but helped Corbin for the day since he'd have otherwise been alone. They made some vital adjustments first thing in the morning that helped their robot tremendously. G-Force (Travis Townsend, Garrett Schultz) ended the day with a record of five wins, two losses and one tie. They started with four wins and a tie until they were defeated by G.A.T. Wrenches. G-Force finished a rebuild the morning of the tournament. Galaxy (River Pardick, Jace Kroll, Isaac Higgins) finished with five wins and three losses, after starting the day with three losses. Most of the day, they combatted the issue of overheating motors by chilling the robot outside between matches. By the end of the day, they figured out the cause of the problem and fixed it.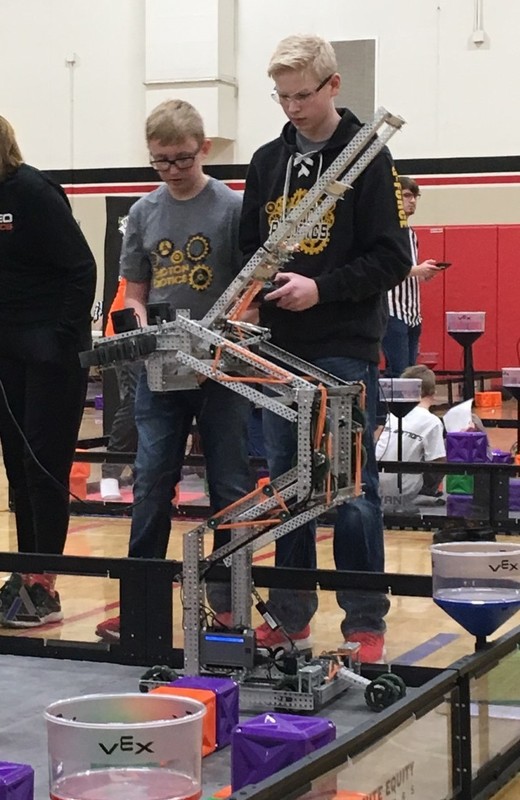 Geek Squad, the youngest team (Nick Morris, Charlie Frost) ended the qualifying matches with a record of four wins and four losses. The Gear Heads (Ethan Morris, Jack Dinger, Axel Warrington) also rebuilt their robot after the prior tournament and will need to look at design options and decide where to go from here with their robot. They ended the day with a record of no wins, seven losses and one tie. Redesign? Adjustments? Stay tuned and we will see.
"I was very happy to see four of the teams advance to the elimination rounds. There were 10 alliances selected. So, 20 of the 33 teams made it to the elimination rounds, while 12 were done for the day," Lane said. Groton's teams did not fare well in elimination rounds. All but G.A.T. Wrenches lost in the first round. G.A.T. Wrenches tied in their first quarter-final match and then lost the rematch.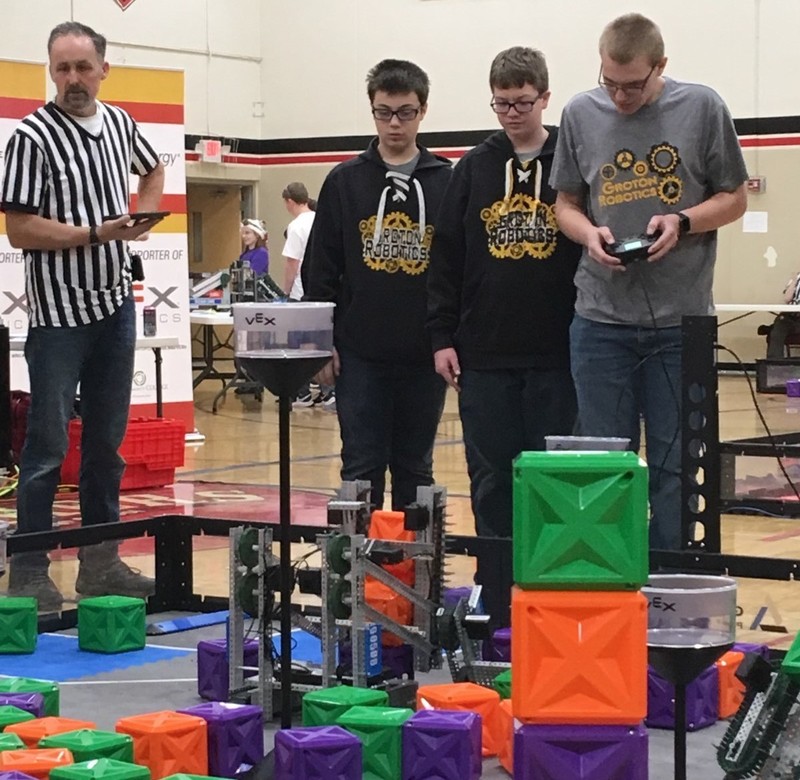 G-Force and Geek Squad were in a four-way tie for second place in the Skills Competition (like a throw-free contest).
Geek Squad was honored with the Judges Award. The Judges Award is presented to a team the judges determine is deserving of special recognition. Judges consider a number of criteria for this award, such as exemplary effort and perseverance at the event or team accomplishments throughout the season that may not fit under existing awards but are nonetheless deserving of special recognition.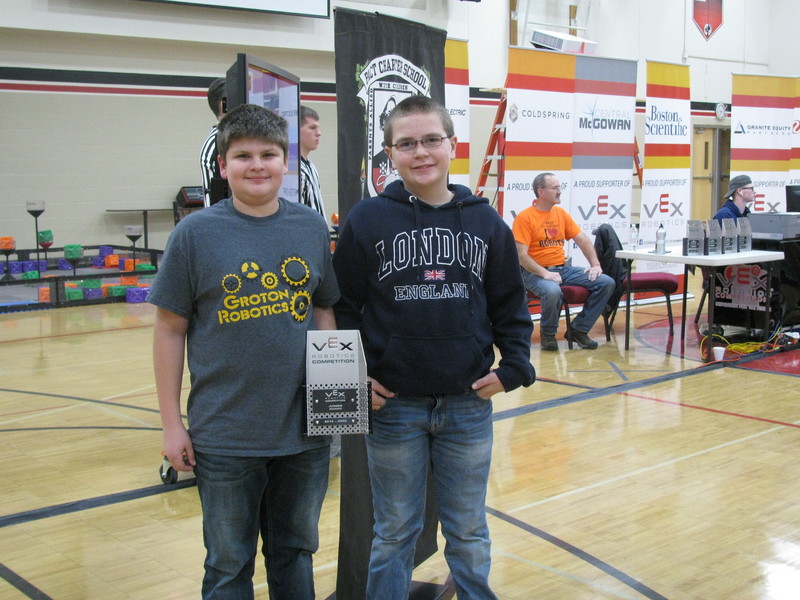 "The Ramsey people were wonderful tournament hosts, and it was a great tournament," Lane shared. "The Ramsey coaches and tournament officials were amazed we would travel so far, four and a half hours. But, here in South Dakota, our closest tournament is two and a half hours away. I received several compliments on how nice Groton's robotists were. Way to go boys!"
GT Robotics' next competition will be Jan. 11 in Canton.